Monitoring carefully and respectfully.
Privacy, security and discreet observation are key considerations in the design of Elderly and Dementia care facilities.
Patients with Dementia and Alzheimer's disease often become confused and disorientated, resulting in stress. Therefore, they need to be monitored carefully and respectfully, while sustaining and maintaining their dignity.
Vistamatic handle this architectural challenge by manufacturing secure vision panels from toughened glass which are fitted to the room doors. Patients can control their environment by simply turning a lever to open and close the panels.
Nursing and observation, without disturbing the patient.
On the outside, the panel can only be operated by a key which means only staff members have visual access to the room, providing nursing and observation, without disturbing the patient. 
Vision panels can also be installed in other community areas such as exercise rooms, multi-faith, visiting and interview rooms.
Creating an outstanding therapeutic space.
Aesthetically, Vistamatic's secure vision panels blend in harmoniously with any overall architectural design. Vistamatic has also recognised that colour and individual bespoke graphics can make the world of difference to a project and can play a part in creating an exciting or calming influence within an environment. 
Adding art to the vision panels softens the physical appearance of the doors whilst significantly enhancing the internal patient environment. Vistamatic understands the importance of this and pride themselves on their effective approach to interior design, helping to create an outstanding therapeutic space.
We look forward to working with you!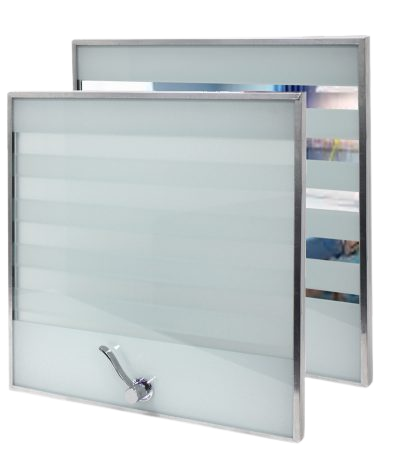 The Vista Max is the gold standard of privacy vision panels. The triple glazed system is renowned for allowing discreet and careful observation.

The Vista Max XL is specifically designed for long and narrow placements and incorporates all the benefits of the original.
The Vista Safe Anti Ligature vision panel is ideal for secure observation in challenging mental health environments.
Unique and inspired, the Vista Slide's lateral movement is designed for those larger spaces where the original Vistamatics aren't viable.