Vistamatic Vision Panels are privacy vision panels made up of three sheets of glass sealed as a single panel with evenly spaced, alternating lines and a sleek handle to allow privacy or observation.
Vistamatic Vision Panels are ideal for any of the following industries and applications where privacy and observation controls are needed:
Healthcare
Education
Commercial
Security
Mental Health
Residential
Thank you for choosing Vistamatic glazed secure vision panels for installation in your latest project.

Please take the time to register your details and activate your Lifetime Warranty*.

Vistamatic completely stands behind the quality of our products and we offer a lifetime warranty on our secure vision panels against faulty manufacture.
Please complete the following:
"*" indicates required fields
Terms and Conditions
The warranty applies to the user of the product and is not transferable.
The warranty applies to an original installation and does not cover previously installed products.
The warranty applies only to manufacturing or material defects and does not 

apply to

 normal wear and tear, inappropriate use or accidental damage.

The warranty applies only if products have been installed according to our instructions and maintained according to our recommendations.
The warranty applies only to the product itself.
The warranty is only valid for products installed in the U.K and Ireland.
If a product is found to be of faulty manufacture, Vistamatic reserve the right to either replace or repair the product and excludes any claim for consequential loss or damage.
Should you have a claim against this guarantee, you should contact the Vistamatic warranty department within 21 days of the fault occurring.
Vistamatic reserves the right to charge for engineer's time and replacement parts if a claim is not due to faulty manufacture or components.
No claim will be accepted if a product is installed with a fault that would have been clearly visible before installation. The warranty does not cover equipment which has been damaged due to misuse, abuse, or accident.
Lifetime Warranty* against faulty manufacture:
If a defect in materials or workmanship appears in your Vistamatic glazed secure vision panel, Vistamatic Limited will provide, at your choice, either free replacement or repair of your product within 28 working days of the reported fault and return of faulty panel. All and any carriage or freight charges at the registered owners cost.
Care and Protection of your Vistamatic glazed secure vision panels:
By following a few simple rules during usage and cleaning you can prolong the life of your Vistamatic vision panels and assist in retaining their good appearance.
DO
Clean only with mild soaps or detergents added to water or a proprietary non-abrasive glass cleaner.
Clean using soft or synthetic window leather.
Use a squeegee or soft cloth for drying the window.
DO NOT
Use brushes or sharp edge items at any time on Vistamatic vision panels.
Do not attempt to use any type of lubricant on operating mechanism.
If in doubt please contact Vistamatic Ltd.
Vistamatic is a ISO 9001:2015 Registered Firm.
*Any alteration to original specification will negate the Warranty.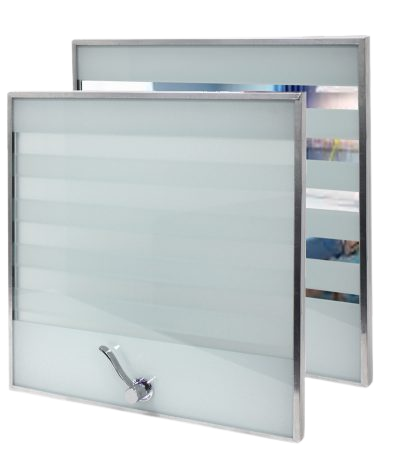 The Vista Max is the gold standard of privacy vision panels. The triple glazed system is renowned for allowing discreet and careful observation.

The Vista Max XL is specifically designed for long and narrow placements and incorporates all the benefits of the original.
The Vista Safe Anti Ligature vision panel is ideal for secure observation in challenging mental health environments.
Unique and inspired, the Vista Slide's lateral movement is designed for those larger spaces where the original Vistamatics aren't viable.