Monitoring the security and welfare of care users within mental health environments is an exacting task, especially those in medium to high security units.
As the leading manufacturer of privacy vision panels, Vistamatic created a secure device designed specifically to allow discreet observation while minimising risk and maximising privacy.
Vista Safe Anti-ligature panels provide both individuals and service providers with an element of all round protection. The vision panel offers a combination of high integrity glazing whilst incorporating a stainless steel frame and anti-ligature device specifically designed for challenging Mental Healthcare environments.
The accompanying metal glazing bead is robust and durable, yet thanks to its range of finishes, never looks institutional. The improved edge detailing also creates a softer design that's safer and reduces the opportunity for self-harm. Additionally, the Vista Safe panels come with the Vista Glide IAS (impact absorption system). 
This soft-closing damping system ensures panels close with a minimum of effort and noise, ensuring that care users remain undisturbed even during cyclical monitoring routines. There is also the ability to provide individual bespoke graphics within the vision panels. Incorporating colour or restorative artwork can transform the aesthetics of the environment whilst maintaining the observation merits of the panels.
Additional Security protection?
If additional security protection is required, Vistamatic can apply 3M Scotchshield Ultra High Performance Safety and Security Window Film. This film meets BS EN 12600 Class 'A' Impact Resistance and BS5544 Anti-Bandit specifications.
We look forward to working with you!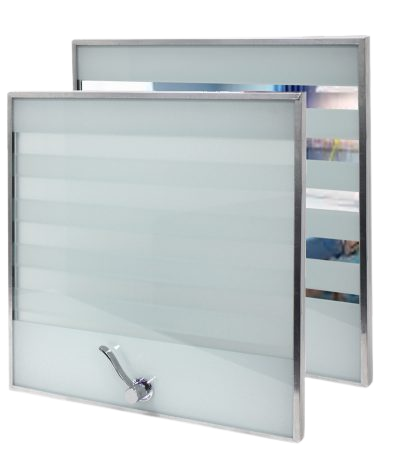 The Vista Max is the gold standard of privacy vision panels. The triple glazed system is renowned for allowing discreet and careful observation.

The Vista Max XL is specifically designed for long and narrow placements and incorporates all the benefits of the original.
The Vista Safe Anti Ligature vision panel is ideal for secure observation in challenging mental health environments.
Unique and inspired, the Vista Slide's lateral movement is designed for those larger spaces where the original Vistamatics aren't viable.